Come see us soon!
What should I expect at my first visit?
When you arrive at Hoklin Chiropractic, you will be asked to fill out a brief form that will become part of your record and will communicate essential information about your condition to Dr. Hoklin. Next, you will meet with Dr. Hoklin and discuss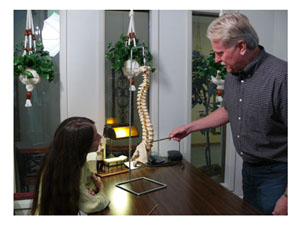 the nature of your condition in order that a treatment plan can be formulated specifically to address your needs. At that point, your chiropractic adjustment will take place!
If at any time during the course of an individual treatment, or during your treatment plan, you experience any increased pain or discomfort or have any other concerns or questions, please immediately communicate this to Dr. Hoklin.
We appreciate our patients and work hard to serve their needs. It is an honor to be entrusted with your care.